It's interesting, that's a nice word for it, to take a walk with me. I'm  sorta like the little boy in Bil Keane's "Family Circus" comic strip. I have a hard time staying focused on one thing. Everything intrigues me! I'm child like, but not childish. That's a nice way to put it, but sometimes, I'm a little of both. Maybe it's because of all the years I spent in children's ministry. I am telling you, Wayne never knows what to expect with me.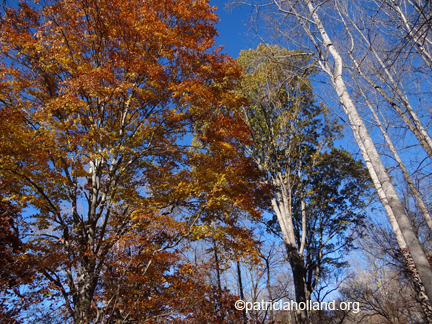 In spite of that fact,  we took a change of clothes and a pair of comfortable shoes to change into after church so we could take one of our adventurous walks. We observe Sunday as a real day of rest and taking a walk is one of my favorite  ways to rest, especially in the fall.
What a beautiful day it was. Sun shining. Cool breeze. Just cool enough that a long sleeve felt good. My honey at my side, well sorta. Sometimes I lagged behind looking at a bug or a stump. And sometimes, he lagged behind because I walk faster, except when he has something to prove…something like he thinks he's faster than me. He's not! And no, I'm not the least bit competitive.
Like I said already, everything fascinates me. Look at the burl on this tree. It was huge. I had to get a closer look. It was sooooo beautiful. Thank you, God for beautiful gnarly knots on trees. It was crawling with bugs. I wanted to capture the bugs but there was so many of them it kinda gave me the hee-bee-gee-bees! Sorry! I didn't get close enough.