Hey! I'm so glad you stopped by…come on in!
We are Pat & Wayne Holland
I'm living out my passion of equipping leaders and encouraging believers to live out their faith through the power and presence of Precious Holy Spirit. And I'm doing it Family Sized.
I am determined to suck all the marrow out of life!  I'm gonna see everything I can see and learn everything I can learn. I'm gonna encourage as many people as I can.  And I am going to use as many methods and platforms as I possibly can!
My family is my most precious treasure. I've loved my husband since I was too young to call it love. Home is anywhere he is. And yes, my heart still skips a beat when he walks into the room. We enjoy turning lumber into buildings, tables or stairs. The smell of fresh cut pine is my favorite smell and the first hint of green in the spring is my favorite color. My son and husband inspire me to laugh; my daughter inspires me to be thoughtful; my daughter-in-law inspires me to experience nature; my son-in-law inspires me to be organized; and my grandchildren teach me how to have fun.
I love ministry period…teaching, preaching and praying for people.  Teaching people to pray, how to be filled with all the fullness of God and live out godly principles in their everyday life; brings tremendous joy, whether it is children, youth or adults. I love using Bible Stories and transforming unfamiliar stories into learning capsules for life to teach.
My heart craves the opportunity to challenge people to come out of their cave of shame and fear and to know Holy Spirit at a new level. And, I'm seeing it happen. I'm seeing people set free, healed and fall in love with Jesus. I'm not interested in church as usual; or being part of the usual training seminar.
I want to partner with churches and conferences that want to equip people to be change agents in their culture. I believe God's Word works. Our challenge as believers and spiritual leaders is to help them make the connection to Biblical principles and how they apply to them. I am a passionate speaker that loves people. I've seen the life transforming power of Precious Holy Spirit and I want to help people enjoy the benefits of a Holy Spirit filled and empowered life.
Spirit Empowered Ministry
Walking with Christ is two-fold or two sided like a coin:
we need Jesus, the living Word
and the Holy Spirit empowerment to live out that Word.
I have observed that the same people that love Jesus may seem intimidated or offensive when approaching the subject of the Holy Spirit. That observation challenges me.  I love, I mean really love to take that spiritual coin, turn it over and help people see the other side. I am passionate about helping believers know and experience the fullness of precious Holy Spirit.
Are you looking for–
Anointed Preaching
Insightful Teaching
Anointed ministry to Women
Inspirational Teacher Banquets
Chapel Service Speaker in Christian Schools
Pat's  ministry favorites:
Prayer
Holy Spirit
Parenting
Overcoming Offenses
Victorious Living
Shame & Rejection
Your workshop at the CE Convention was wonderful–as always!!! Thank you so much for information, inspiration, and excellence.
–Dee Collier   
I enjoyed feeling your zeal and passion for God and doing his will.  It is not only refreshing, it's contagious.  Also, I enjoyed your stories.  I've already shared many of them with family members and co-workers.
—Damarise Murphy-Reyes
Pat Holland is a gifted and anointed communicator. As a pastor I appreciate her servant's heart and as a preacher I admire her communication skills.
—Pastor Ed Frost
Pat Holland has a multi-generational ministry that I have rarely seen during my 15 years as a family life pastor. She has ministered in our Sunday morning services, delivering powerful messages from the Word of God and touching the hearts of all ages. She has reminded our parents of important Biblical principles needed in raising the next Godly generation. She has reached our kids with the life changing message of the Gospel.    –Kyle Alford
Her sensitivity to what the Holy Spirit is speaking is revealing and life-changing. She has a unique way of bringing the Word of God using understandable illustrations that help you to receive the Word in such a way that it is usable in your daily life. If you have any questions, I would be glad to answer them. I can recommend Pat whole-heartedly and without reservation. You won't be disappointed!    –Peggy Williams
Without reservation, I recommend that you invited Pat to minister in your church and to any specific group within it.  She is versatile and has an energetic, spirit-filled anointing.
We have recently had the benefit of the anointed ministry that Pat Holland brought to our church.  She ministered to our women, to our parents, to our workers, and to the entire congregation in our Sunday morning services. The altar services were powerful and life-changing.
The wisdom that God imparted through her has made a strong and Godly impact on me, personally, and everyone here.  We have been enriched.
–Tom Kempt Pastor
Conference Descriptions
Click on the green button to get information about any of our conferences.
Please call or shoot me an email if you have any questions.

Holy Spirit


Pray


Training


Power Up


Parents


Ladies


Family


Thank You

Statement of Faith

What we believe really is important! It is the lens that we look through to see all of life! That's why I base my life, my ministry and all I do on the firm foundation of God's Word!
—————-
I BELIEVE in the deity of our Lord Jesus Christ.
ELIEVE the only means of being cleansed from sin is through repentance and faith in the precious  blood of Jesus Christ.I B
I BELIEVE in the resurrection of the lost and the saved. The lost to eternal damnation;  the saved to eternal life.
I BELIEVE  the infilling of the Holy Spirit is available to every believer that asks and receives Him.
I BELIEVE the Bible is the only infallible Word of God.
I BELIEVE the Bible is the inspired Word of God.
My Vision Statement
My vision is to  encourage believers to grow in the grace and  knowledge of Jesus Christ and personally experience the fullness of  Spirit filled living.
Biography
Patricia Holland is a minister in the Peninsula Florida District of the Assembles of God. She is an anointed speaker with a deep love for the word of God and a passion to make it come alive to her audience. She is a gifted speaker with the ability to engage any audience while making scripture simple to understand. Ministering to people in the altars is an important part of Pat's ministry.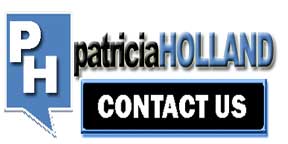 Click here to contact Us for More Information
Click on picture for higher resolution file to use for advertising.